What makes a luxury sedan a luxury sedan? At Miami Acura, we believe it's a combination of the sporty performance and sophisticated design.
There's no better example of a luxury sedan than the 2016 Acura TLX. Available at Miami Acura to drivers in Miami, Pembroke Pines, and Coral Gables, the 2016 Acura TLX combines aggressive all-wheel drive and all-wheel steering with a sleek exterior to create the ultimate driving experience. 
Acura TLX - Athletic Performance
The 2016 Acura TLX has several different performance technology systems that put it laps ahead of the competition. Here's an overview of the most important ones:      
Super Handling All-Wheel Drive (SH-AWD):The Acura TLX's available all-wheel drive system makes the road feel more like a racetrack. It automatically detects which way you're turning, and then applies extra torque to the proper wheel accordingly.      
Precision All-Wheel Steer™ (P-AWS®): The Acura's available P-AWS® system is the perfect complement to its SH-AWDsystem. It automatically adjusts the angle of the rear axle to make turning more precise and effortless at both highway and parking lot speeds.      
Integrated Dynamics System (IDS): The IDS offers several selectable modes to suit whatever type of driving you need, or want, to do. ECON maximizes engine efficiency, SPORT tunes up the steering and response levels, and SPORT+ makes you feel like you're about to clinch the Daytona 500.      
8-Speed Dual Clutch Transmission with Torque Converter: It's the secret ingredient that makes the TLX's incredible performance possible. This semi-manual transmission is constantly anticipating your next shift and preparing the gears for it. 
Interior and Exterior Design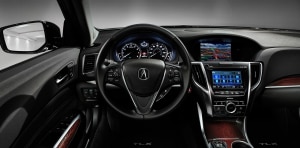 Performance and responsive drivability are clearly a major part of what defines a luxury sedan.
In the 2016 Acura TLX, you're immersed in luxury before you even start the engine. The car's reverent noise-dampening technology seems to shut off the hustle and bustle of the outside world. It utilizes acoustic foam, a sound-absorbing glass windshield, triple-sealed doors, and high-tech frequency cancellation to turn the cabin into your sanctuary and put you in your zone.
The exterior of the 2016 Acura TLX announces its splendor to the world with its irradiating Jewel Eye LED headlamps. Their eye-catching design is sure to turn a few heads as you pull up to the valet.
These ten attractive LEDs, five on each side, will illuminate rapidly approaching vehicles and objects up to one-fifth of a second sooner than standard halogen bulbs. When you're traveling at top speeds in the TLX's SPORT+ mode, that time could make all the difference.   
Test Drive a 2016 Acura TLX
We hope you learned a great deal from this 2016 Acura TLX vehicle review. If you have any questions, don't hesitate to contact our team at Miami Acura today. We're very eager to serve all our customers in Miami, Pembroke Pines, and Coral Gables.
Call or stop by our showroom to speak with a representative. While you're doing so, you can also schedule a test drive. Reach out to us promptly so you can test drive a 2016 Acura TLX as soon as possible.