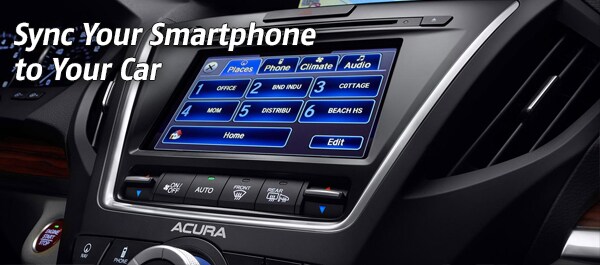 Sync Your Smartphone to Your Car in Miami, FL
Today, many cars are equipped to sync, or communicate wirelessly, with a smartphone, allowing the driver to make phone calls, send text messages, play music, and navigate to a destination using voice commands.
These hands-free tasks are possible thanks to advancements in vehicle telematics, or the integration of communication and information technologies for use in automobiles. Typically, vehicle telematics systems incorporate cell phone and Global Positioning System (GPS) units with an on-board computer to perform a wide variety of tasks. In 1996, OnStar became the first company to install such technology in cars. The service offered hands-free calling and turn-by-turn direction assistance, as well as access to a call center staff that could unlock the car if a customer was locked out and alerted the police if the car was stolen or its airbags were deployed. OnStar now comes standard on many cars, but it relies on a built-in cell phone system separate from the driver's handheld unit.
Benefits of Syncing Your Smartphone to Your Car
There are a few things to consider before you can connect your smartphone to your car. First, make sure your handset has Bluetooth capability. Then, ensure that the systems you're considering are compatible with your particular phone. They're generally sold in two main ways: as a factory-installed option or an aftermarket add-on.
Aftermarket add-ons are relatively inexpensive and compatible with almost any car, but they typically lack the functionality of a factory-installed system. One way to install Bluetooth connectivity into your car is by purchasing a new stereo or a unit that can be hardwired into your current stereo. These systems, which play calls through your car's speakers, are manufactured by companies like Alpine, Parrot and Motorola. They automatically upload your contacts to support audible caller ID and voice-activated calling. They can also play music wirelessly from your phone, which, like the music from your car stereo, is automatically muted when you have an incoming call. A cheaper alternative is to buy a unit that doesn't require any special wiring. These units offer similar features to their hardwired counterparts, but the sound is played through a visor or windshield-mounted speaker. They lack the ability to mute your car stereo when you receive a phone call.
The first time you use your phone in the car, you must pair the devices to ensure that they recognize each other in the future. This involves a brief initial setup, but when you're done, your phone will automatically connect each time you get in the car. After a few hands-free commands, you'll never want to handle your phone while driving again.
Find out how to Sync your phone. Acura HandsFreeLink